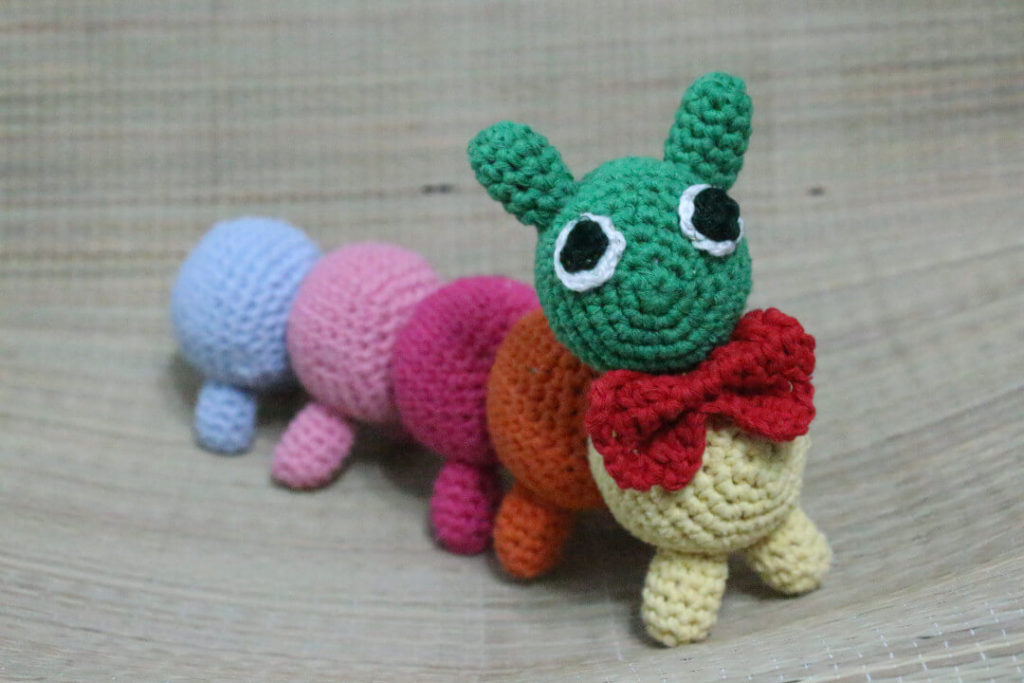 Amigurumi Caterpillar Free Crochet Pattern
Hello dear visitors, I am here again with new amigurumi molds for you. I am sharing amigurumi patterns for you here for free. You can make your children happy by making these patterns. Amigurumi toys are very popular lately and are the most beautiful toys that don't harm your kids. Your kids will love them. Let's move on to our pattern and give them this gift.
You will need
1pc Yellow color rope
1pc Orange color rope
1pc Red color rope
1pc Green color rope
1pc Blue color rope
1pc Pink color rope
1pc Light Pink color rope
2.5 mm crochet
Needle and thread
Abbreviations
SC = Single Crochet
INC =Increase
DEC =Decrease
Round Part (6 Pieces)
1) 6SC into the magic ring
2) 6INC (12)
3) (1SC, 1INC) * 6 (18)
4) (2SC, 1INC) * 6 (24)
5) (3SC, 1INC) * 6 (30)
6-11) 30SC
12) (3SC, 1DEC) * 6 (24)
13) (2SC, 1DEC) * 6 (18)
We fill the fiber.
14) (1SC, 1DEC) * 6 (24)
As such, we create 6 circulars with different colors or threads of the same color.
Footrest (12 pieces)
1) 6SC into the magic ring
2) 6INC (12)
3-7) 12SC
Caterpillar Bow Tie
1) We pull 15 chains.
2) We sink from the end to the 3rd loop with double handrails and complete the entire row with double handrails.
3) We weave a total of 4 rows of double handrails like the second row.
We shrink the rectangular piece we obtained in the form of a bow tie and sew it with a needle, thread from the middle.
Eyes

1) We make 6SC into the magic ring with white rope for the flux of the eye. We knit the second row with 2 SC per loop.
2) We make 5 SC into the magic ring with a dark rope for the pupil. We knit the second row with 2SC per loop. We stitch the pupil with a dark thread.
3) We sew the eye flux to the circle you want to make a head with a light colored thread.
Joining Parts
Two of the feet we make will have the antennas of our caterpillar, the others will have feet.
One of the round will be the head, we sew the five remaining balls side by side. We sew the balls under the balls, leaving a slight opening, two by two, putting the fibers inside them.
We make sure that the feet in each ball are parallel to the other feet.
We sew the round on which the caterpillar's head is formed, perpendicular to the body at a ninety-degree angle. Then we sew the bow tie and finish our caterpillar.
More Amigurumi Caterpillar Ideas: