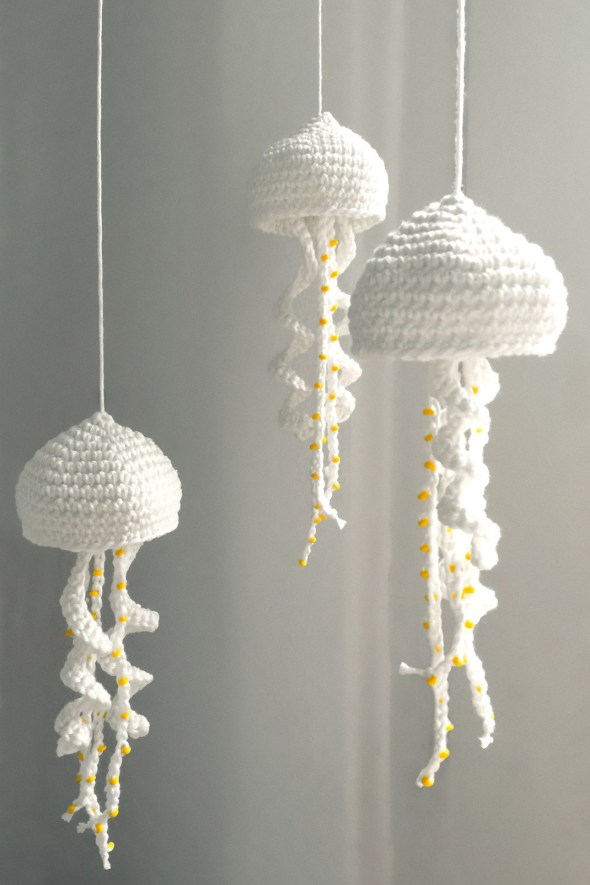 Amigurumi Jellyfish Free Crochet Pattern
Hello dear visitors, I am here again with new amigurumi molds for you. I am sharing amigurumi patterns for you here for free. You can make your children happy by making these patterns. Amigurumi toys are very popular lately and are the most beautiful toys that don't harm your kids. Your kids will love them. Let's move on to our pattern and give them this gift.
You will need
crochet hook: 4,0 mm (US 6)
yarn: 100g for 3 jellyfish
others: 35 beads (e.g. yellow) per jellyfish
Abbreviations
sc = single crochet
inc = increase (2 sc into the same stitch)
dec = decrease (sc together 2 stitches)
slst = slip stitch
st(s) = stitch(es)
rnd(s) = round(s)
[…] …x = repeat instructions in brackets as a sequence … times
(…) = number of stitches after the round
Cap
You don't have to close the rounds with a slst, instead work the cap in a spiral. Start with a magic loop. Leave a long yarn tail at the beginning so that you can hang the jellyfish when it's finished.

rnd 01: sc 6 into the magic loop (6 sts)
rnd 02: [inc] 6x (12 sts)
rnd 03: [1 sc, inc] 6x (18 sts)
rnd 04: [2 sc, inc] 6x (24 sts)
rnd 05: [3 sc, inc] 6x (30 sts)
rnd 06: [4 sc, inc] 6x (36 sts)
rnd 07: [5 sc, inc] 6x (42 sts)
rnd 08.-11. (= 4 rnds.): sc 42
rnd 12: [dec, 5 sc] 6x (36 sts)
rnd 13: slst 36
Beaded Threads
You have to crochet 3 beaded chains in total. One chain with 15 beads and further two chains holding 10 beads. Before you start to chrochet, you have to thread the corresponding quantity of beads on the yarn.
chain with 10 beads: [1 ch with a bead, 2 ch without a bead] 10x, 8 ch, break the yarn
chain with 15 beads: [1 ch with a bead, 1 ch without a bead] 15x, 12 ch, break yarn
Tentacle
Because of the one-sided increases the tentacle will twist as you go.You have to crochet 2 tentacles in different sizes for a jellyfish.
1st tentacle: Start with a chain out of 31 ch. Insert hook into the 2nd stitch from hook. inc in that stitch and into the next 14 sts along the chain. Repeat the following sequence until the end of the chain: [1 sc, inc in next st]
2nd tentacle: Start with a chain out of 36 ch, then follow the instructions of the first tentacle.
Montage
Sew the beades chains and the tentacles onto the center inside the cap. Drag the remaining thread from the beginning through the tip of jellyfish's cap towards outside. Now you can your jellyfish on a piece of driftwood, a  mobile or a lamp. If you want to let your jellyfish to float, you can use fishing line instead of yarn to hang the jellyfish.