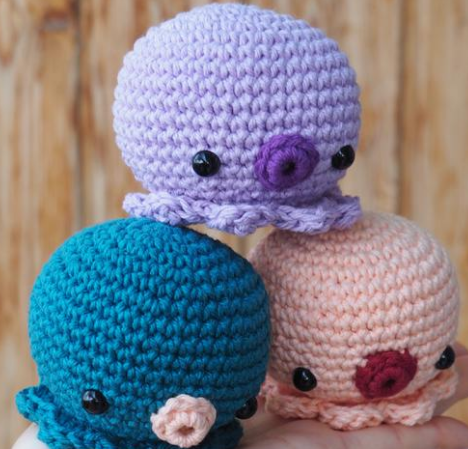 Amigurumi Octopus Free Crochet Patterns
Hello dear visitors, I am here again with new amigurumi molds for you. I am sharing amigurumi patterns for you here for free. You can make your children happy by making these patterns. Amigurumi toys are very popular lately and are the most beautiful toys that don't harm your kids. Your kids will love them. Let's move on to our pattern and give them this gift.
You will need
– A ball of yarn and a small amount of a contrasting color
– A 3.5mm hook
– A 5 mm hook, screwdriver or thin pen to shape the mouth
– Stuffing
– 1 pair safety eyes
– Tapestry needle and stitch marker
Abbreiations
sc = single crochet
hdc = half double crochet
tc = trebble crochet
sl st = slip stitch
inc = increase
dec = decrease
sts = stitches
Head/Body
With main color
R1: 6 sc in magic ring (6 sts)
R2: (inc) x6 (12 sts)
R3: (inc, 1 sc) x6 (18 sts)
R4: (inc, 2 sc) x6 (24 sts)
R5: (inc, 3 sc) x6 (30 sts)
R6: (inc, 4 sc) x6 (36 sts)
R7: (inc, 5 sc) x6 (42 sts)
R8-14: sc even (42 sts)
R15: (dec, 5 sc) x6 (36 sts)
R16: (dec, 4 sc) x6 (30 sts)
R17: (dec, 3 sc) x6 (24 sts)
R18 (in front loops only): sc even (24 sts)
R19: [(hdc, tc) in next st, (tc, hdc) in next st, sl st in next st] x8.
Cut the yarn and weave in ends.
Mouth
With contrasting color
Make a magic ring of 8 sts. Put a bigger hook or a thin pen in the middle to keep the hole open and pull the yarn to close the ring. Crochet a sl st in every stitch (8 sts).
Push the stitches to keep them in the back. FO and leave a length of yarn to sew to face.
Face
Between rows 12 and 13, choose any stitch located between two tentacles. From that central stitch, count 5 sts to the right and 5 to the left and place the eyes. Place the hole of the mouth right in that central stitch and sew carefully, keeping the round shape.
Assembly
In row 18 join the main color with a slip stitch to any back loop.
Inner R18 (in back loops only): (dec, 2 sc) x6 (18 sts)
Inner R19: (dec, 1 sc) x6 (12 sts)
Stuff firmly
Inner R20: (dec) x6 (6 sts).
Fasten off, finish stuffing and sew hole.
More Amigurumi Octopus Ideas